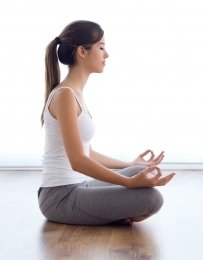 Meditation can help with a number of everyday problems. It does this by enabling us to focus our minds and to relax our bodies, thus allowing our bodies and minds to heal themselves.
The most common of all these problems, is, undoubtedly, stress. Long term stress can give rise to all manor of different ailments. Meditation allows us to stay calmer and helps heal the damage caused to our minds and bodies.
Whilst Meditation can seem to be quite challenging for most people initially, with regular practise it becomes easier and more natural. Practising meditation within a group has added benefits for the beginner and long term meditator alike. The session is overseen by an experienced group leader where any assistance required can be obtained on the spot, if any issues arise.
We currently run once weekly online Meditation session that lasts for about an hour.
Thusday evening at 8.00pm
Gerry has been practising meditation for over 10 years and has led Meditation Groups   since 2011. The cost is £10 per month and this covers all sessions run during the month.
Beginners are always very welcome and don't concern yourself, you don't need to sit like the lady in the picture!
(Image of girl meditating, courtesy of nenetus at FreeDigitalPhotos.net)